I am starting my week with a grateful heart and here's why,
Travel.  
More specifically, travel with my husband. I remember, all too well, the days when Christian was traveling while on tour and more times than not, I stayed in Chicago – counting down the days until he was back. It was an exciting time for both of us, but we also really missed each other. Lots of emails, Skype dates, and postcards were exchanged to make up for our time apart. I spent many mornings out on my balcony, drinking my coffee and reading all of the postcards he'd sent me that week. I'd saved them to read all at once each Saturday.
There were so many get-togethers, holiday gatherings, and other fun things that X missed out on during that time, and in turn- I missed out on having a partner to go to them with. Things are a bit different now – while X still travels here and there, it's not as often or for as long, and since I now work from home, it gives me the opportunity to go with him. I pretty much jump in his suitcase if given the chance.
Speaking of suitcase(s), here's (some of) what's in my bag(s) as we head to Nashville this week! (I'm working on it, ok?)
(I may have left out some dresses for this picture.) (And shorts.) (And shirts.) 
(We're only there for a week, but you just never know.)
And hey- because it's Monday and we all need an extra laugh, I'm going to share a special Conversations with my Husband with you. It was more of just something X said, but it's too good not to be shared:
Christian came home on Friday night and walked in on me watching Twilight (the second one for anyone who cares) and he said, "I think the clear answer for her is that buff guy right there. Because that other guy is super goth."
So it turns out the real Mr. Cullen is Team Jacob in real life. (Just for the record, I am Team Edward.)
What are YOU grateful for today?
Link up below and join the rest of us in starting each day this week with a grateful heart. Not enough time to write a Grateful Heart post today? No worries! This linkup will be open until Friday!
There are three easy rules for this linkup:
1. Link up to your Grateful Heart post, not just your blog's homepage and please link your post back here (via link or GHM button) so that others can link up too! 
2. If you decide to share your Grateful Heart post on social media, please use #gratefulheartmonday so that we can all find each other (If you use this hashtag on twitter, tag me and I will retweet!)
3. Carry on and be grateful! XO!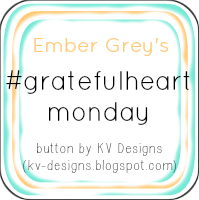 If you are interested in designing a GHM button, go here!